Apply For the Master in Finance Program
The Application for Fall 2023 is closed.
 Interested in learning more about BCF Master in Finance 2024 Program?
---
Watch an Information Session
We encourage interested students to watch our informational webinar from Tuesday, October 26, 2021, with Professor Markus Brunnermeier, Professor Caio Ibsen Rodrigues de Almeida, Manager of Career Development and External Relations Lindsay Bracken, and MFIN Academic Administrator Melanie Heaney-Scott.  Watch the video below.
---
Prospective students can find vital information about the program's application process below. For unanswered questions, please visit this page of Common Questions about the Master in Finance Program.
---

About the Program
Learn From the Leader
Go further with Princeton BCF.
Regularly placing among the top schools across several global academic rankings, Princeton
Bendheim Center for Finance offers innovative, interdisciplinary academic programs and conducts research activities to shape existing practices and knowledge around modern finance and monetary economics.
You'll learn theory from top Princeton faculty and academic researchers, while also gaining practical skills from leaders in the financial services industry.
The Princeton BCF MFIN degree prepares students for a wide range of careers both inside and outside the financial industry, including financial engineering and risk management, quantitative asset management, macroeconomic and financial forecasting, quantitative trading, and applied research.  
For our Fall 2023 cohort, we are offering three distinct program tracks based on career interests and goals:
Quantitative Asset Management
Focuses on designing and evaluating financial products that help organizations manage risk-return trade-offs.

Work on portfolio management, risk management, asset pricing and hedging, providing the necessary quantitative background to leaders and innovators in this growing field.

Highly requested at major investment banks, hedge funds, and successful quantitative asset management firms.

Includes courses in probability, optimization, stochastic calculus, dynamic programming, machine learning, and several disciplines in financial economics. 
Data Science & Financial Technologies
For those interested in computer-based technologies and their increasingly important use of big data in finance.

Focuses on computational techniques needed in "real-time" computing environments including efficient trading systems, algorithms, high-frequency data analysis, interfaces, processing large databases, and the security of computer networks. 

Essential for competitive financial firms demanding more efficient trading processes, data signal extractions with increased speed and lower costs. 

Courses cover the latest tools and techniques of financial technologies (FinTech), computer science, and computational methods in finance, including machine learning, information retrieval, artificial intelligence, and deep learning.
Valuation and Macroeconomic Analysis
Focuses on the strategic understanding of a firm's valuation and structural macroeconomic conditions.

Studies how to evaluate and finance investment projects, including start-up financing, deal restructuring, and how to determine the optimal capital structure of a firm.

Formulates strategies consistent with the expected performance of the macroeconomy.

Fundamental for venture capital funds, global macro funds, strategic consultancies in finance, and pension funds.

Includes courses in corporate finance, behavioral finance, investment projects, financial reorganization, mergers and acquisitions, incentive design, initial public offerings, time series analysis, macroeconomics, and asset and liability management.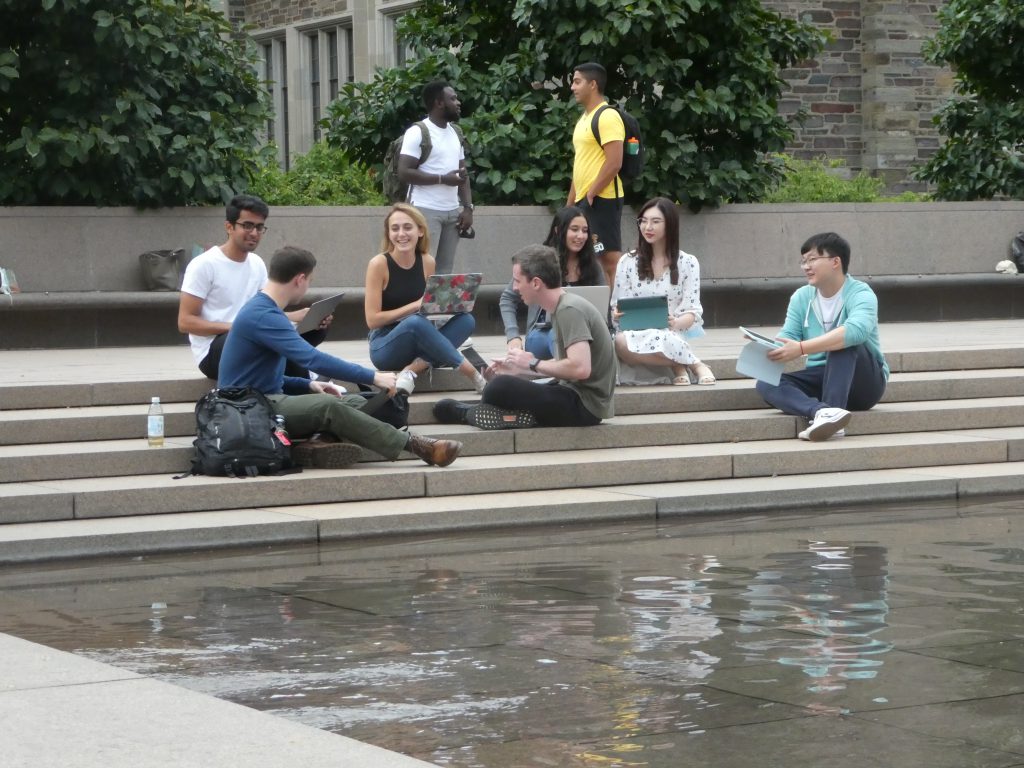 ---
---
Program Length and Fees
The Master in Finance program is four semesters. A small number of students with strong prior knowledge of the field, mathematical aptitude, and work experience are given the opportunity to take a compressed two-semester program. We will only make a determination about your ability to complete the program in one year after you have been admitted to the program. For more information on the compressed program, please contact Melanie Heaney-Scott at mheaney@princeton.edu.
The cost of tuition and the required health plan fee for 2022-2023 is $60,410. More details about tuition and fees are available online at the Graduate School website. The application fee is $75.
---
---
Application Process and Timeline
Prospective students interested in applying to the Master in Finance Program should apply through the Graduate School at Princeton University. Application materials are due by January 3, 2023.
Students will be required to submit academic transcripts, three letters of recommendation, a personal statement, and GRE or GMAT test scores. For students whose native language is not English and who did not complete their entire undergraduate education in an English-speaking country, TOEFL or IELTS test scores are required.
The mandatory math assessment will take place on Saturday, January 7, 2023. More detailed information will be sent after the application deadline.
All applicants should receive a response to their application by March 15. Due to the large number of candidates that apply each year, it is not possible for us to inform applicants if their applications are incomplete, or give other information during the review process.
Admitted students will need to respond by April 15. On-campus housing will be guaranteed only to students whose completed housing application has been received by the university by the reply deadline of April 15.
---
---
Letters of Recommendation
While the Graduate School requests letters of recommendation from faculty, we will accept at least one from an employer if you are coming back to school from the workplace. Please register your recommenders as early as possible to give them time to submit their letters. While letters of recommendation are also due by the strict deadline of January 3, 2022, please do not wait to submit an application because of pending letters as you may miss the strict deadline.
---
---
More on the GRE and GMAT
Students can submit GMAT scores instead of GRE scores. MBA programs tend to favor the GMAT, but if you are focused on our Master in Finance or similar programs, the GRE is less expensive, more frequently offered, and is our preferred test. The two tests differ in a number of ways.
When students register for either test, they must specify that their scores be sent to the Princeton University Office of Graduate Admission. Princeton's code for the GRE is 2672, and WC1-L5-59 for the GMAT. Princeton does not use department codes. It takes four to six weeks for scores to be released to the Office of Graduate Admission following your request.
Finally, note that there are a number of reputable test preparation programs online. In the U.S., Kaplan and Princeton Review have the longest track record. Princeton Review and many other firms have offices throughout the world. There are many books also available for self-study and students can find free sample tests here. Note: Princeton Review is not connected to Princeton University.
---
---
Questions About an Application
All information and questions regarding your electronic application should be directed to the Graduate Admission Office. For information on how to check the status of a submitted application, visit this page.
For technical issues with your application, please send an email to gradapphelp@princeton.edu or you can call (609) 258-3034 during office hours only. Please allow 48 hours for a response, and please include your user name or order ID number, full name, email address, and phone number.  If you suspect a problem with your GRE/TOEFL test scores, please contact Educational Testing Services directly. Do not wait until the deadline to submit your application. We do not accept late applications, and if a prospective student misses the deadline due to technical difficulties they will not be able to apply.
---
---
Insight from a former student
Finally, those looking for insight from a former student might enjoy this video from former Master in Finance student Srishti Singla.
READ MORE